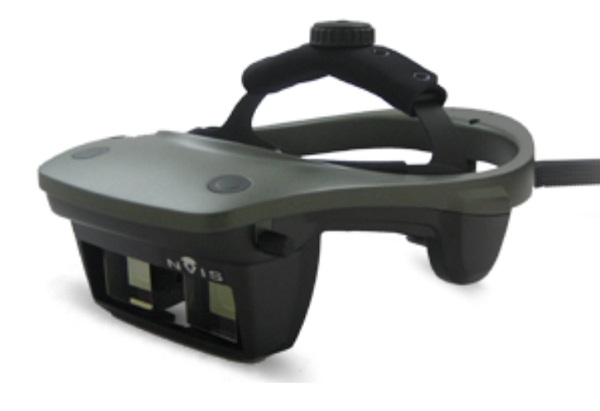 About: The nVisor ST50 is built around a high-contrast Organic Light Emitting Diode (OLED) microdisplay. The microdisplay provides 1280×1024 pixels per eye in a low-power, compact design. The patent-pending eyepieces display the image across a 50° diagonal field-of-view with <2% distortion, making the see-through compatible optics ideal for professional augmented reality applications that require precision alignment between real and virtual environments. The nVisor ST50 works equally well as a see-through or fully immersive display. A removable cover can be quickly applied to allow users the flexibility to develop both virtual and augmented reality applications using the same HMD. And the nVisor ST50 supports standard motion tracking devices from InterSense, Ascension, Polhemus, and others via a tracker platform mounted on the back of the HMD.
nVisor ST50 Specs and Info…

Device: nVisor ST50
Manufacturer: NVIS
Announced Date: Unknown
Release Date: March 2020
Launch Price: Unknown
Device Type: AR HMD
Display: X2 OLED SXGA at 1280 x 1024 (Per Eye)
Diagonal Field of View(FOV): 50°
Refresh Rate: 60 Hz
Weight: 1050 g (2.31 lb)
CPU: N/A
GPU: N/A
Battery: N/A
Tracking: 3 DoF Non-positional (Gyroscope Based)
Controllers: N/A
Our Thoughts: Despite many bigger companies like Microsoft making much the same device, it has to be said the nVisor ST50 is way ahead of all of them! The wide 50° would be interesting to see for sure, but this is an enterprise-only AR HMD and not meant for pubic use. NVIS has been making top of the line AR and VR headsets for years so it will be interesting to see what they come up with in the future especially given the amazing SX111. Who knows, maybe one day it will be something we call all afford.
---
Sources used…
https://www.nvisinc.com/product/products.html?layout=pdfgenerator&fid=a0QG0000008qrfFMAQ&fname=nVisor%20ST50