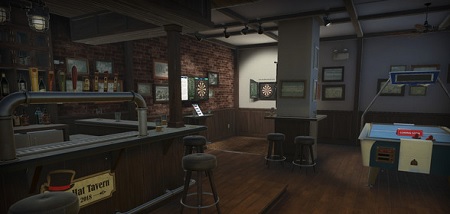 System: Oculus Rift Only
Price at Time Of Review: £7.19
Comfort Rating: Green
Genre: Sports
Input: Tracked Motion Controllers
Best Playing Position: Standing
Multi-Player: No
Age Rating: PG
VR Shop Score 1/100: 65
Description: On Target VR Darts is a physics-based darts simulation. Hand controllers capture real-world variables such as velocity and release angle to create a fun and accurate throwing mechanic. Customize the components of your darts from barrel to flight to alter the weight and balance of your dart. Play in Freethrow mode to get the hang of things, or play a game of 501/301 vs AI with 5 difficulty levels.
Review: There is good news and bad news when it comes to my thoughts on 'On Target VR Darts'. The good news is the developers have made real steps to make this darts game feel as close to the real thing as they could. While the pub scene in the game look good as well, it is the physics that has been given the most thought. But sadly that STILL doesn't stop this game from feeling terrible to play. While I have only ever played darts in real life a few times I know that this game doesn't have it right at all, even the holding angle of the darts feels wrong! It's a good effort to be fair to the developers and maybe some of the best VR darts physics you will ever see, but it is still not good enough and definitely not worth the £7.19 current asking price. But for a quid or two, this might be worth a look. While it has no multiplayer mode you could always play with friends via passing the headset along.