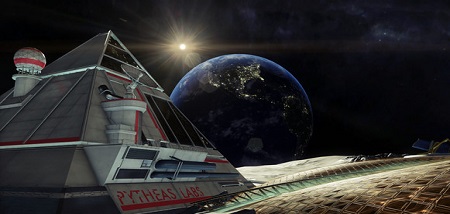 System: Valve Index & HTC Vive
Price at Time Of Review: £29.99
Comfort Rating: Green
Genre: Action
Input: Tracked Motion Controllers, Gamepad
Best Playing Position: Sitting
Multi-Player: Yes
Age Rating: 15+
VR Shop Score 1/100: 20
Description: In Prey: Mooncrash, TranStar's secret moon base stopped transmitting shortly after the events of Prey. Now Peter, a hacker stationed aboard a spy satellite tasked with intercepting TranStar communications, must find out why. Trapped and under a ruthless contract with KASMA Corp, Peter's only hope of ever seeing his family again is uncovering the moon base's lost secrets.
Review: Prey: Typhon Hunter is one of those online shooter games that launched with big dreams in its eyes and a lot of love flying its way. But sadly those days are now over and this game is as dead as they come. Don't get me wrong, there is a single-player mode, but it is nothing to write home about and certainly, nothing here is worth the current £29.99 asking price. It looks OK I suppose and while you could get some friends to get it on the cheap as well there really isn't a lot of content overall with just a small handful of weapons and only 3 maps (as far as I know). Sadly this is one to put a bullet in as it is done.