---
"…some great looking graphics and easy to play mechanics.."
---
Review System: Oculus Rift CV1
Price at Time Of Review: £2.29 ($3)
Comfort Rating: Green
Genre: Action, Shooter
Size: 64.07 MB
Controller System: Touchpad
Best Playing Position: Sitting
Multi Player: No
---
Romans From Mars 360 (Gear VR)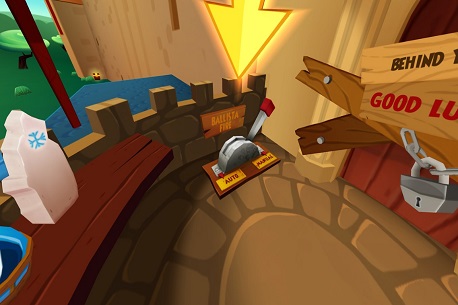 ---
Intro:
You might want to sit down, I have bad news. Aliens dressed as Romans are attacking earth and it's up to you single handily to stop them. The good news is you have a crossbow and God like elemental powers of Fire, Ice, Earth, and Lightning. Yes, it's a crazy storyline, but it's better than some
Gear VR
game storylines I have read. Using auto-fire or tab the touch pad to fire you will have to take care of wave after wave of evil aliens. Some arrive with bombs on their backs, some in a suit of armour and some almost bigger than your castle itself. Castles, Romans, Aliens? Yep, this game has it all.
---
---
Verdict: While Romans From Mars 360 does get repetitive quickly, it is a great game to play for short bursts. With a score challenge to pass between friends and a good amount of hidden things to find this is one game, you will be playing for a while if you want to finish everything. With some great looking graphics and easy to play mechanics it really does offer some good fun at a great price. Well, I had a laugh playing it anyway.