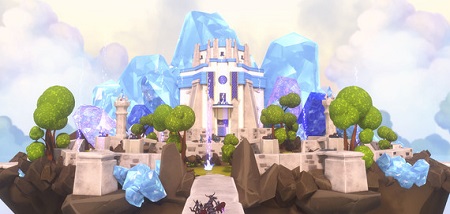 System: Valve Index, HTC Vive & Windows MR
Price at Time Of Review: £15.49
Comfort Rating: Green
Genre: Action
Input: Tracked Motion Controllers
Best Playing Position: Standing
Multi-Player: No, Yes
Age Rating: PG
VR Shop Score 1/100: 40
Description: SkyBrawl is a VR-game for players that love the Defence genre. Stunning graphics, nice music and exciting gameplay will make you a part of the incredibly realistic battle! Are you ready to dive in the 3D-fight in the comfort of your home? It's time to fight in a ruthless battle and defend your territory. The walls of the castle are strong, but there are too many enemies. Your main task is to save the crystals in the citadel and withstand the onslaught of invaders arriving simultaneously from 3 portals.
Review: Overall 'Sky Brawl' isn't a terrible game, it just seems to get a few things wrong. It looks good with a cartoon style from start to finish and there is a small, but traditional range of weapons at your disposal. There are even times when things do get a little crazy on screen making the action feel quite exciting. But what it doesn't get right is the feel of the gameplay, Each shot with the crossbow or hit with the sword feels empty and lacks sound effects or indeed any sort of feedback. Sadly action is pretty much all this game has so when it feels lame it puts a dampener on the whole game. £15.49 is a ridiculous asking price as well, but I feel it is still worth a look for a quid or two.