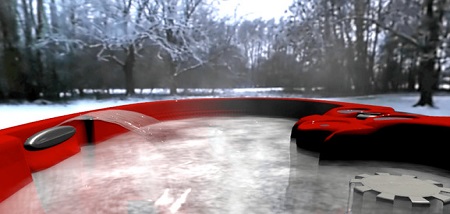 System: Valve Index & HTC Vive
Price at Time Of Review: Free
Comfort Rating: Green
Genre: Non-Interactive Experience,
Input: Tracked Motion Controllers
Best Playing Position: Sitting
Multi-Player: No
Age Rating: PG
VR Shop Score 1/100: 20
Description: Ever been in a hot tub fully dressed? How about sitting in a hot tub right in your very own living room? Well, now you can with the world's first and only hot tub VR Experience by SpaBerry! SpaBerry's are already the coolest looking hot tubs on the planet! New design architecture, new designer colours, all new interiors, and product innovations with stunningly beautiful design language. SpaBerry's are an amazing finishing touch to any deck, patio, or balcony. Now you can full immersive yourself in a SpaBerry right at home with the all-new SpaBerry VR Experience! Featuring our all-new SB-6 top of the line model, our VR Experience allows you to change the colour of your SpaBerry, adjust the jet action, and even enables you to change your surroundings to enjoy the views! It gets even better; download our Augmented reality app to place a SpaBerry directly into your own space! From there the only thing better than our VR and AR Experience is the real thing – contact us for special offers so we can get you a SpaBerry of your very own! Are you wet yet?
Review: There is no getting away from it, 'SpaBerry VR Experience' is an advert for Spaberry spas. If you have the money to buy one of their spas you won't need a VR experience to decided to get one, you will blow the money regardless. But getting back to that said VR experience it is poorly made, the sales pitch sucks and there is nothing to do or interact with for the whole 5 minutes it is running. But hey… it's free and you could always pretend you are a millionaire for 5 minutes!