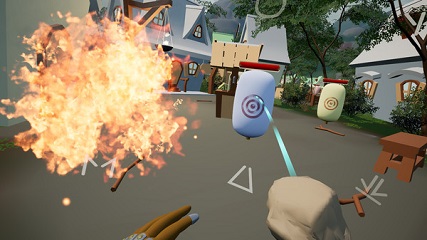 System: Valve Index, HTC Vive & Oculus Rift
Price at Time Of Review: Free
Comfort Rating: Red (Extreme Movement)
Genre: Action
Input: Tracked Motion Controllers
Best Playing Position: Standing
Multi-Player: No
Age Rating: PG
---
Description: In Spellslinger VR you will run into a variety of monsters, puzzles, and challenges you must overcome by casting a wide array of elementally-aligned spells. The core gameplay comes from its unique spellcasting system, where stringing together specific arm and hand movements casts spells.
Review: 'Spellslinger VR' is a magic casting style game in which you have to kill wave after wave of enemies via performing magical spells in the form of hand movements. There isn't much to say other than that as it really is all there is to the game. The graphics are OK I suppose, but the animation is often janky and more often than not disorientating as you will often find you don't know which way to are going.
The best and kindest thing I can say about 'Spellslinger VR' is that it is free and if you like the look of it it will cost you nothing to try it out. Its just so raw and kinda pointless that I struggled to enjoy it. But at the end of the day it is hard to hate on anything that is free so maybe give it a go yourself and you might enjoy it more than I did. But it does work and it is free, so I did give it a Silver award for that at least.