---
"…you will soon believe you really are taking place in a giant space battle."
---
Please note: While this game / app will look and feel just like it looks and seems on the same system we reviewed it on. If you choose to play it on another system (if available) which might make it a significantly different experience in both looks and gameplay.
---
Age Rating: 12+
Review System: Oculus Rift DK2
Price at Time Of Review: £5.99 ($8)
Comfort Rating: Red
Genre: Space Shooter
Size: 573.32 MB
Controller System: Gamepad
Best Playing Position: Sitting
Multi Player: Yes
---
Starfighter Arduxim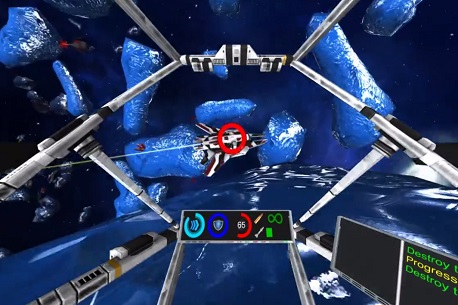 ---
Intro:
Strap into the cockpit of your Arduxim starfighter and take on enemy starships in this first-person tactical space shooter. Includes a 12 mission campaign, multiplayer, tutorial, practice mode and survival mode.
Review: Starfighter Adumim is a first-person tactical space shooter that gives you the opportunity to explore space and get involved in epic space battles. While you don;t get a choice of ships, you do get to choose from various weapons, complete in 12 missions and even go online for some epic space battle multiplayer action. Add to all that there are several game modes to choose from.
Once you learn the controls (thanks to the practice stage) it is pretty easy to get around. The weird overhead board menu system takes a little getting used to, but the HUD is nice and easy to understand. There is nothing too complicated here, just explore, shoot and play along with the missions / objectives.
---
---
Verdict: If I had to sum this game up, it would be a cheap version of EVE: Valkyrie. But it is also a pretty good game in its own right. With several missions to complete as well as multiplayer battles and missions, there is lots here to keep you amused for a while at least. OK, so it doesn't look amazing and the motion sickness will bring most people to the point of vomiting, but plug in some earphones, sit in a comfortable chair and you will soon believe you really are taking place in a giant space battle. This game makes it possible to be fully immersed within it and that is why it is worth a download. Space shooters simply work well in VR and the more the merrier.