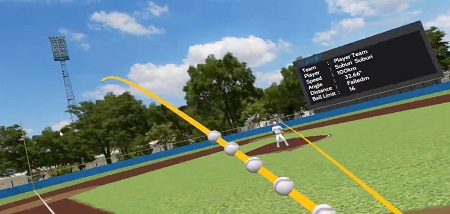 System: Valve Index & HTC Vive
Price at Time Of Review: £4.79
Comfort Rating: Green
Genre: Sports
Input: Tracked Motion Controllers,Keyboard & Mouse
Best Playing Position: Standing
Multi-Player: No
Age Rating: PG
VR Shop Score 1/100: 5
Description: This App is a batting simulator NOT a usual video game. This App is a VR batting simulator for kids who wants to improve their batting skills. The pitcher (right-handed) will throw balls into your 16 point pitch zone randomly so you can train your hand-eye coordination at home.
Review: SUBURI is as basic as "games" get. In fact…it is barely a game at all. This is supposed to be a baseball batting simulator for people to practice with. Sadly it is only right-handed, it looks like crap and has almost zero haptic feedback. If this was a freebie it might not have been so bad, but when the developer wants £4.79 for this, you are much better off spending your money elsewhere. There is nothing "fun" here, nothing educational or useful, so do look elsewhere.