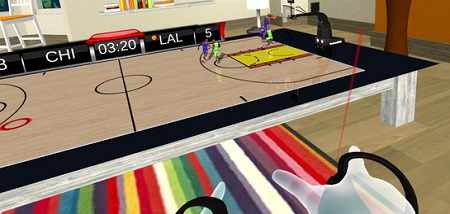 System: Valve Index, HTC Vive, Oculus Rift & Windows MR
Price at Time Of Review: £7.19
Comfort Rating: Green
Genre: Sports
Input: Tracked Motion Controllers
Best Playing Position: Sitting
Multi-Player: No
Age Rating: PG
VR Shop Score 1/100: 75
Description: Tabletop Basketball VR brings a basketball experience that you're use to, from the TV down to a virtual table. It's like having little toy basketball players come to life. The game features a semi-simulation style basketball game. The games are shorter than a normal basketball game to play a more action-oriented fast pace game that's a good fit for VR. We are focused on quick play and fast load times to get you into the action as fast as possible.
Review: Let's start with the good news…'Tabletop Basketball VR' is the basketball game we all wanted in our VR headets. Its not a demo, or a mini-game, it is a full 3 on 3 game of basketball! I have said from the start that sports games should be made in this style of the game played as a grandstand viewpoint. OK, so this is a tabletop view, but the effect is the same. That way it feels like you are controlling little players and while a tad basic it is still impressive and I have to give them credit for it.
OK, so the game itself is far from perfect, but it is the ONLY full basketball game in VR! No, you shouldn't pay £7.19 for this and no the game doesn't have any multiplier. But the idea is genius and I have to give the developers credit for it. I can only hope that one day a full NBA game is made like this, but until then this will do nicely (but it could do with a sale).