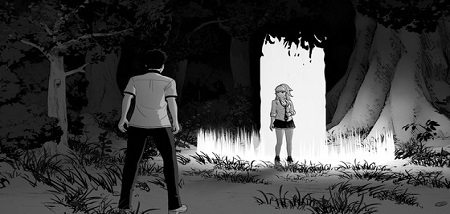 System: Valve Index & HTC Vive
Price at Time Of Review: £16.99
Comfort Rating: Green
Genre: Interactive Experience
Input: Tracked Motion Controllers
Best Playing Position: Standing
Multi-Player: No
Age Rating: PG
VR Shop Score 1/100: 50
Description: Tales of Wedding Rings VR is a unique and brand new manga experience for VR, brought to you by Square Enix. Enter into the iconic monochrome world of Japanese manga and experience Tales of Wedding Rings, a story about an average high school student name Satou, who receives an unexpected email from Hime, the mysterious girl living next door, that leads to the adventure of a lifetime.
Review: Tales of Wedding Rings VR is a graphical novel VR experience that puts you into the storyline as a bystander. To be honest, if you don't watch 'Tales of Wedding Rings' on something like Crunchyroll you will probably have very little interest in this. To be fair to Square Enix this is the best graphical novel for our VR headsets and it looks amazing, sounds great and each scene feels immersive. But sadly you are paying for the time and effort that has gone into this rather than the app's value for money. If it sounds like your cup of tea maybe wait for a REALLY good sale as it really doesn't last much longer than 20 mins.