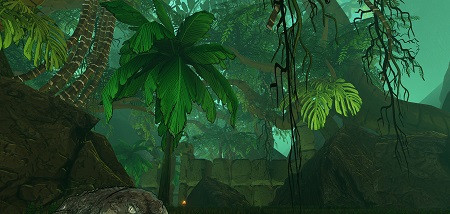 VR Shop Score – Bronze Award
Price at Time Of Review: £18.99
Comfort Rating: Red (Extreme Movement)
Genre: Action
Supported Controllers: Oculus Touch
Best Playing Position: Standing, Roomscale
Multi-Player: No
Age Rating: PG
Description: Become Lord of the Jungle! Tarzan VR transports players deep into 3 unique and fantastical jungle worlds teeming with action and excitement! Swing, swim, climb and fight your way through dangerous predators and challenges — experienced through a serialized comic-style adventure. You get all 3 game episodes together in this release!
Review:
'Tarzan VR' (or to give it its full title now "Tarzan VR™ Issue #1 – THE GREAT APE" is a beautiful cell-shaded action game in which you will be punching hunters left right and centre and of course swinging through the trees on vines. While the game does indeed look good it is quite linear in terms of gameplay with no real exploration happening, but from start to finish you are in for a fun action game that even made me laugh out loud a few times as well. Sadly its biggest flaw is the content amount with less than an hour's worth of gameplay here you will struggle to find value for money with the £11.39 asking price. No…wait…that was the
Steam price
! The Quest price is £18.99 which I can promise you is little more than a pure joke. And it's not as if it looks as good as the PCVR version! If you can grab this game for a quarter or less of its current asking price go for it, otherwise you will only be left feeling out of pocket. Until that price comes down I simply can't recommend it.