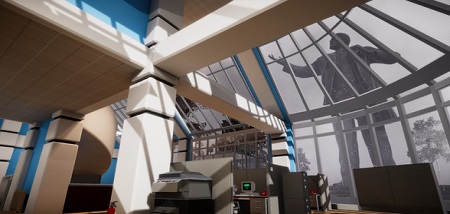 System: Valve Index, HTC Vive, Oculus Rift & Windows MR
Price at Time Of Review: £9.99
Comfort Rating: Red
Genre: Action
Input: Tracked Motion Controllers
Best Playing Position: Sitting
Multi-Player: No
Age Rating: 15+
VR Shop Score 1/100: 80
Description: THE SPY WHO SHRUNK ME is a stealth game where you are a superspy armed with a shrink ray! It's 1981. Sneak onto a train inbound to Moscow and infiltrate a software company that harbours grave secrets bound to turn the Cold War into a very hot one. Armed with banana peels, airbag mines and the capability to shrink enemies and drop them in toilets and paper shredders, you are the only one standing between the dreaded General Bolscotchkovich and his Soviet army.
Review: Just a quick note before I start this review this VR DLC is free, but you need the full game to play in VR hence the price. Anyway, on with the review. 'The Spy Who Shrunk Me VR' is an action stealth game in which you play the role of a spy who can shrink themselves down to infiltrate a software company. This mechanic, of course, works great in VR and despite the cartoon-like graphics you still get a great sense of size. While it is clear from the off that this is not built for VR, but that doesn't stop it being a load of fun. Sure, it's a bit nauseating in parts, but if you can handle those you are in for a good hour or two's worth of fun here. Just take my advice and wait for a sale as you don't get a whole lot of content if you plan to just rush through it.