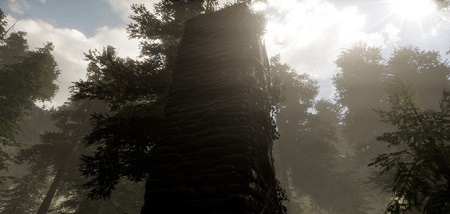 System: Valve Index, HTC Vive & Oculus Rift
Price at Time Of Review: £3.99
Comfort Rating: Green
Genre: Escape
Input: Tracked Motion Controllers
Best Playing Position: Standing
Multi-Player: No
Age Rating: 15+
VR Shop Score 1/100: 45
Description: The Woods: VR Escape the Room is a roomscale-based, escape the room adventure game. After a walk in the woods, you find yourself locked in a swaying cage above the forest floor, with no recollection of how you got there. Discover the mysteries this forest has to offer. Solve puzzles, decipher ancient texts, and uncover the mystical secrets hidden within these woods for many years.
Review: While on the surface 'The Woods: VR Escape the Room' has a lot of potential that said potential has sadly gone unrealised. I even like the main setting for the game, up in a cage in the canopy of a jungle. Graphically wise it also does a good job and while there isn't a whole lot to see from your cage position, what there is looks good. Even the puzzles themselves are well thought out and require a bit of thinking. But sadly you will be done and dusted with the game in less than 10 mins and that is not good at all given the £3.99 price tag. This game just needs a lot more content added to it, or some sort of storyline to drag it out. Until then I would try and pick this up in a cheap bundle only.