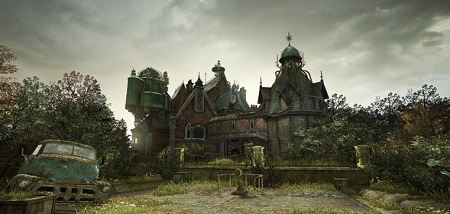 System: HTC Vive & Oculus Rift
Price at Time Of Review: £23.79
Comfort Rating: Yellow
Genre: Adventure
Input: Tracked Motion Controllers
Best Playing Position: Sitting
Multi-Player: No
Age Rating: 15+
VR Shop Score 1/100: 70
Description: Deep in a forgotten forest, video blogger Katherine Patterson discovers an abandoned mansion, littered with strange machines and disturbing experiments. This is the home of the famed Dr Lawrence Talbot, who went missing more than 64 years ago. This could be the story of Patterson's career, worth millions… But when she meets Dr Talbot in person — still alive, trapped in another dimension, and missing his body — Patterson realizes she was wrong. This is the story of a lifetime.
Torn opens as a narrative puzzle game as you help Talbot reactivate the mysterious machines that bring his mansion to life. Then it evolves into a dark, character-driven story as you slowly uncover the truth about Talbot, and the new dimension he calls "The Parallel." Remember everything you see, for in Talbot's world, truth is nothing more than the invention of the mind.
Review: It's hard not to love Torn. With its AA soundtrack, pretty great graphics and even a semi-interesting storyline, this is a game you can easily get into and enjoy. Sadly that enjoyment doesn't last long, but not because of the lack of content, more the lack of imagination implemented into that content! The puzzles are all so boring and seem to be the same thing over and over again. Then these niggles all accumulate into an ending leaving you wondering what on earth you spent the last few hours doing, its as if it trips over its own feet on the way to greatness. But still, this might be one to get in a sale but do make sure it is a good sale before you buy it.