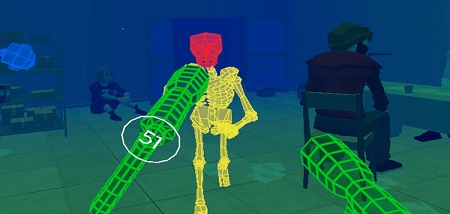 System: Valve Index, HTC Vive & Oculus Rift
Price at Time Of Review: £3.99
Comfort Rating: Green
Genre: FPS (Static)
Input: Tracked Motion Controllers
Best Playing Position: Sitting
Multi-Player: No
Age Rating: PG
VR Shop Score 1/100: 35
Description: Offices are boring. Take a break for the monotony and improve your toy gun skills in this VR-only game! Toy Gun Office Simulator is the best way for you to train for those pesky, real-life toy gun battles you may encounter in your workplace. Face hordes of co-workers, do a little target practice, survive waves of skeletons, and blast through an armada of enemy spaceships — all within the comfort of your VR headset. After playing this game you can add "toy gun sharpshooter" to your CV!
Review: Toy Gun Office Simulator is not just some single-game office playtime, it is a collection of mini-games that are all pretty much the same thing. The idea of the game is simple, shoot anything flying towards you! Red things mean points and green means more ammo. Sadly a real-word toy gun in the office would be much more fun than this game is. With its terrible graphics and repetitive gameplay there is just no way I would recommend this especially when it costs £3.99! If you got this in a cheap bundle it might make you smile, but other than that I would leave this one in the office all alone.