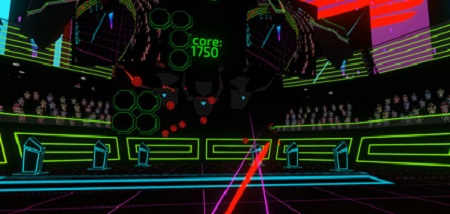 System: Valve Index, HTC Vive & Oculus Rift
Price at Time Of Review: Free
Comfort Rating: Green
Genre: Action
Input: Tracked Motion Controllers
Best Playing Position: Standing
Multi-Player: No
Age Rating: PG
VR Shop Score 1/100: 30
Description: Journey back to the nostalgic time of the 1980s and then step into the future of video games. Based on the "futuristic" arcade games of the '80s and '90s, Trigger Finger is a virtual reality game meant to test your reflexes while giving you a sense for a time that some of us weren't alive for.
Review: Trigger Finger is a collection of shooting games all rolled into one "game show" style. Basically there are waves of bad guys and after each wave, the environment style changes and you will be shooting again, but at something different. With its 80's neon theme it looks basic, but OK I guess, but the gameplay is where this game falls apart. From the reactive nature of the game to the lame action, there is just nothing here that feels nor looks exciting in any way. OK, so its a freebie and I probably shouldn't be too hard on it, but I personally just couldn't get into this at all.