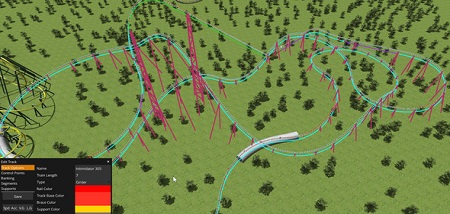 System: Valve Index, HTC Vive & Oculus Rift
Price at Time Of Review: Free
Comfort Rating: Red
Genre: Art and Creation, Ride Simulator
Input: Keyboard & Mouse
Best Playing Position: Sitting
Multi-Player: No
Age Rating: PG
VR Shop Score 1/100: 35
Description: Ultimate Coaster X is a free roller coaster simulator built with simplicity and utility in mind. The in-game roller coaster and world editors allow you to create and experience rides of many types. VR support for riding roller coasters is included (but not coaster or world editing).
Review: Those of us wanting 'Ultimate Coaster X' to be the VR version of Rollercoaster Tycoon will be bitterly disappointed here. This is a much more basic app that does let you build your own coasters, but the only part that is in VR is riding the coasters. While the fact that this app is indeed free needs to be taken into account it will be far too basic for most professional coaster builders needs, but on the flip-side, it is too complicated for me coaster fans to get started with. Taken from a VR point of view this app is kind of pointless, but as an on-screen coaster builder its worth a look I suppose, just be willing to spend a lot of time learning how to use it.