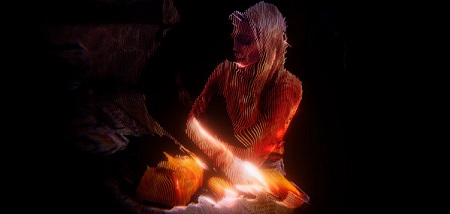 System: Valve Index, HTC Vive, Oculus Rift & Windows MR
Price at Time Of Review: £3.99
Comfort Rating: Green
Genre: Interactive Experience
Input: Tracked Motion Controllers
Best Playing Position: Sitting
Multi-Player: No
Age Rating: PG
VR Shop Score 1/100: 60
Description: VESTIGE is a room-scale VR creative documentary that uses multi-narrative and volumetric live capture to take the viewer on a journey into the mind of Lisa as she remembers her lost love, Erik. Within an empty void, fragments of past memories appear of their life together. As we navigate the space to explore these moments, new memories are triggered revealing new pathways through the story. Over time the memories become entangled with a haunting vision and eventually lead us to the shocking moment of Erik's death. Every viewing will reveal a different journey towards this moment, revealing the complex world of memory and grief.
Review: VESTIGE is one of those VR experiences that you will either love and get what the developer was going for, or hate and feel ripped-off having paid so much. Sadly I am in the latter group as I just don't feel it was worth anywhere near the current £3.99 asking price. Its a story of such told with a visual style made of the sound waves of the story. So you end up with a moving visualiser of sorts. The story is kind of interesting I suppose, but it only lasts for about 12 minutes and really should be free or just a single quid.