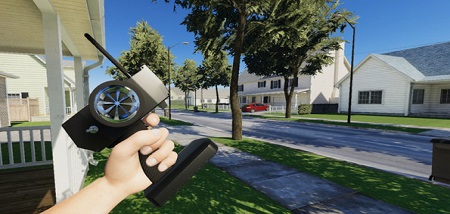 System: Valve Index, HTC Vive & Oculus Rift
Price at Time Of Review: £2.89
Comfort Rating: Green
Genre: Interactive Experience
Input: Tracked Motion Controllers
Best Playing Position: Standing or Sitting
Multi-Player: No
Age Rating: PG
VR Shop Score 1/100: 15
Description: Virtual Reality Radio Controlled Cars — the best RC car simulator in VR.You will see great physics, nice graphics and deep immersion! Do crazy stunts, modify tracks with objects and customize your car.
Review: I get the feeling I am somehow missing something when it comes to 'VRRCC'. It seems to be just an interactive experience in which you can drive an RC car around a street like environment and that is all. Don't get me wrong, it was fun to mess about with the little RC car making it crash into stuff and go over the few ramps on offer, but I was hoping for other tracks, races and you know…gameplay! If this is all there is it needs to be free before I can recommend it, but if there is nothing else it should be avoided at all costs. Its a shame really because the street environment does look good and I liked the handling of the RC cars, but there is almost nothing to it.