---
"…just sit down, listen and watch."
---
Age Rating: 12+
Review System: Oculus Rift CV1
Price at Time Of Review: Free
Comfort Rating: Green
Genre: Experience
Size: 610.45 MB
Controller System: Oculus Remote
Best Playing Position: Sitting
Multi Player: No
---
We Wait (Oculus Rift)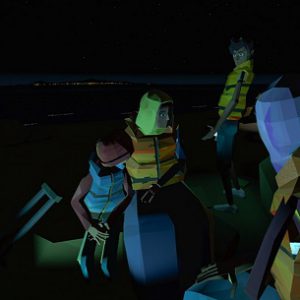 ---
Intro:
Based on BBC News interviews with migrants, We Wait is a dramatized story transporting you to the heart of the refugee crisis. On a starlit beach in Turkey you meet a Syrian family about to embark on their second perilous attempt to cross the sea to Greece. In We Wait, Aardman's experience in animation and storytelling comes together with the human stories uncovered by BBC News to make this look and feel radically different from any other documentary VR experience to date.
Review:
When I first heard the BBC was getting into making 360° content I have to admit I was hoping for something animal based, but instead, they have gone down the news story route. We Wait is a hauntingly atmospheric 360 animated experience about the hardship and fears of a Syrian family trying to cross from Turkey to Greece. This perilous journey is of course very dangerous and even more powerful knowing that the stories are from real people (but not the voices).
You start off on a beach not really know what is going on which does leave you feeling a little vulnerable, then you slowly learn the people's story who are all around you and realise that you are waiting on that beach to once again try and make the journey across the rough sea. There is no interactions here, just sit down, listen and watch. And by the way, putting your arm in front of your eyes doesn't stop that torch light from blinding you.
---
---
Verdict: The story behind this app is a minefield that makes people talk passionately about their political and racial feelings, but even with putting any political thoughts aside I just feel this 'experience' isn't that good. The low polygon counts and animations of these characters cheapens their story and doesn't put as much feeling into each scene as it otherwise should have been. And yes, before anyone says it, I know it's not about how good the graphics are but about the message they are trying to get across, but I just feel the poor quality made the immersion and therefore the storyline less…emotionally powered than it could have been. But good on the BBC for making some 360° experiences, just next time I hope they make a bit more of an effort.