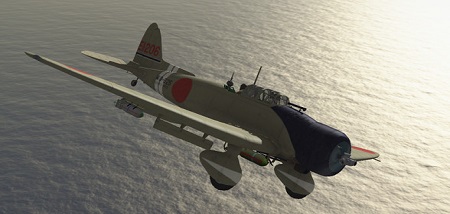 System: Valve Index, HTC Vive & Oculus Rift
Price at Time Of Review: Free
Comfort Rating: Red
Genre: Flight Simulator
Input: Tracked Motion Controllers,Keyboard & Mouse
Best Playing Position: Sitting
Multi-Player: Yes
Age Rating: PG
VR Shop Score 1/100: 75
Description: War Online: Pacific is the first in a series of fast action WWII combat simulations. War Online: Pacific uses a WWII plane set combating Japan against the USA. It couples a high fidelity flight model with fast-paced dogfighting action.
Review: War Online: Pacific is your classic dogfighting game based on a WWII plane set, so you only get to pick Japan or USA. It's not a terrible game at all, in fact, the simple controls making flying easy and quick to get into and while they do take a little getting used to I was soon doing barrel rolls and things. Sadly there are no other online players these days and the AI isn't the best at all, in fact, you could say they are as dumb as a dodo. But at the end of the day, this is free and well worth a look if you like dogfighting games. Just keep in mind that it is free so your expectations should be set to low.