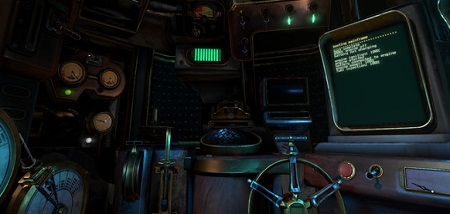 VR Shop Score – Silver Award
System: Valve Index, HTC Vive & Oculus Rift
Price at Time Of Review: £15.49
Comfort Rating: Green
Genre: Escape/Puzzle Room
Input: Tracked Motion Controllers
Best Playing Position: Room-Scale
Multi-Player: No
Age Rating: 15+
Description:It was your only way off this forsaken planet, but standing aboard a colossal stolen mech, you find yourself surrounded by unfamiliar buttons, levers, and monitors. In full VR, push, pull, press and hack everything you can find in an attempt to activate this lumbering beast and make your escape.
Review:
'A Rogue Escape' is a strange sort of game that is both a puzzle room seeing you surrounded with knobs and levels to pull and push as well as a giant mech game in which you have to defeat monsters and avoid obstacles. The game looks good with a Steampunk style to it. Sure, the outside of the mech looks a little basic, but you aren't supposed to see that much anyway. But this is a game that throws you into the deep end, so it does take time to get into this game and get the hang of everything which many simply won't like.
However, I found myself getting into it in the end and really enjoying the few hours worth of content. Sure, the price might be a little too high given the 2 hours worth of gameplay, but if you take your time and enjoy everything you might get better value for money here. While I do suggest you wait for a sale price it is well worth a look. Just be patient with it and let the game grow on you.