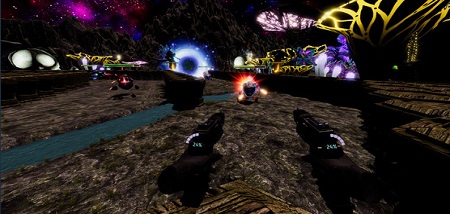 System: Valve Index, HTC Vive, Oculus Rift & Windows MR
Price at Time Of Review: £7.19
Comfort Rating: Green
Genre: Tower Defence
Input: Tracked Motion Controllers
Best Playing Position: Sitting
Multi-Player: No
Age Rating: PG
VR Shop Score 1/100: 75
Description: You believed tower defence is only about building towers? That's not quite right – because AIRA VR is not like other tower defence games in virtual reality. Once the battle starts you find yourself in the midst of the fight! AIRA VR merges the strategic elements of the tower defence genre and the thrilling action of a first-person shooter in an intelligent manner and combines the best of both worlds. Thereby, AIRA VR is the first game of its kind that is exclusively developed for VR and offers you an unprecedented gaming experience.
Review: AIRA VR is a tower defence game in which you personally will be doing most the defending. I have to say, I love the style of the game, it reminds me a lot of the movie Avatar with neon plants and an undertoned sci-fi theme. You can indeed place one of several towers down in the game, but you will often find yourself doing most the killing rather than placing the towers down and walking away. It even features a load of vice acting to keep the storyline moving along quite nicely. even at full price which is £7.19 I feel this game just about gives you the money's worth but getting it in a sale as I did will make sure you feel a lot happier about your purchase.