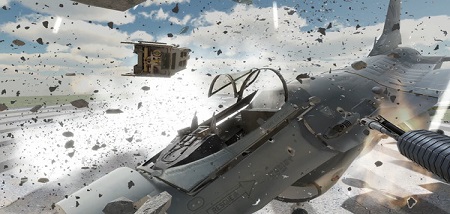 System: Valve Index, HTC Vive, Oculus Rift & Windows MR
Price at Time Of Review: £23.79
Comfort Rating: Green
Genre: Interactive Experience
Input: Tracked Motion Controllers
Best Playing Position: Sitting
Multi-Player: No
Age Rating: PG
VR Shop Score 1/100: 80
Description: Disassembly VR: Ultimate Reality Destruction simulates the experience of taking everyday objects apart. Remove screws, bolts, nuts and every single part with your tools and bare hands. All fully interactive with realistic disassembly physics! Weapons and additional tools unlock as you complete levels for more destructive fun!
Review: Its fair to say 'Disassembly VR' is an odd one. This is a sort of game/tool that lets you destroy and tear apart various objects. While at first, I thought it was only going to be an app there is a game with actual progression attached to it. This is one of those games that is cool and fun to play, but it doesn't matter if this was played on a flat-screen or a VR headset, it would still be the same game. So is the game worth £23.79? Probably not unless you REALLY get into it, but I get the feeling most people will lose interest in a few hours. Don't get me wrong, it is a great game, but the fact that it's in VR is not a selling point to it and it feels just as good on a screen.