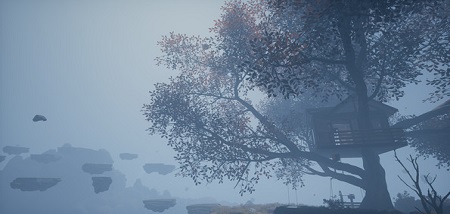 System: Valve Index, HTC Vive & Oculus Rift
Price at Time Of Review: Free
Comfort Rating: Green
Genre: Interactive Experience
Input: Tracked Motion Controllers
Best Playing Position: Sitting
Multi-Player: No
Age Rating: 15+
VR Shop Score 1/100: 75
Description: Trapped in a strange shattered world lost in fog, you take a trip down memory lane. The past not only hides memories of your relationship between you and your brother but also the suppressed event that may has led to his suicide. Face your deepest fear in this built-for-VR adventure.
Review: 'Letzte Worte VR' which translates as "Last Words VR" is a 30-minute interactive experience that does have German voice narration, but at least it does have English subtitles. As you might have already guessed it is about dealing with death, or more exactly a sister dealing with the suicide of her brother, so do expect a rather emotional journey. While it might be boring for some and triggering for others I felt this was a well made and well-written experience that is well worth a look if you like VR story experiences. It's free, it looks good and if you ask me it is well worth a download.