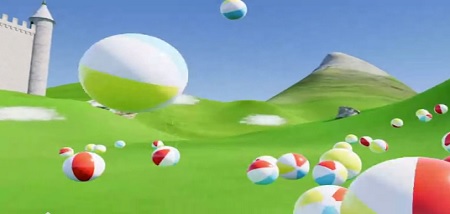 System: Valve Index & HTC Vive
Price at Time Of Review: £1.99
Comfort Rating: Green
Genre: Interactive Experience
Input: Tracked Motion Controllers
Best Playing Position: Standing or Sitting
Multi-Player: No
Age Rating: PG
VR Shop Score 1/100: 80
Description: Beach Ball Valley gets huge smiles like no other VR game I've seen. It's just super fun to smash beach balls with huge paddles.
First played at a VR demo night in 2015. People loved it. So, we polished everything to feel great, sound great, and look great. Beach Ball Valley has been handcrafted from feedback at numerous events 100s of players in live testing. It's fun. It's silly. It's satisfying to loft a beach ball over the distant hills. It's a beautiful experience to share the joy of VR with everyone.
Review: Beach Ball Valley is going to blow you away with its graphics and gameplay, but it will deliver some laughs and a little bit of fun and that is all you get with this app and that is all it was ever intended to do. This is a VR test platform as such and it captures the 'fun' of VR perfectly. This is not going to win any awards, nor is it going to be played more than once, but it will distract you for a short while and is perfect for anyone new to the VR experience.