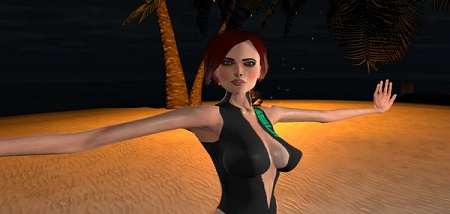 System: Valve Index, HTC Vive & Oculus Rift
Price at Time Of Review: £9.29
Comfort Rating: Green
Genre: Adult / Dating
Input: Tracked Motion Controllers
Best Playing Position: Sitting
Multi-Player: No
Age Rating: 15+
VR Shop Score 1/100: 5
Description: DREAM GIRLS VR is an adult experience, meet all girls, play with them at the party in a showroom. You can choose one of the locations, and admire their beautiful movement in the dance. During the experience you can control the time. Slow down the animation or stop it absolutely. Experience amazing moments in Virtual Reality using HTC Vive or Oculus Rift!
Review: I have seen a few of these terrible 'virtual girl' apps before, but fair play 'DREAM GIRLS VR' is the worst of them all. With animation that looks like it was made on an PS1 to the awful boob models that look so fake, they were made by someone who has never seen boobs before! Chuck in the £9.29 price tag on top and fair play you have a VR experience that is not only not worth owning, but there was zero point this every being made. I have played worse games than this, but only just.