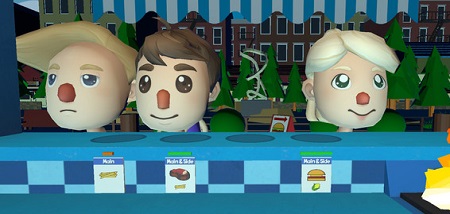 System: Valve Index, HTC Vive & Oculus Rift
Price at Time Of Review: £9.29
Comfort Rating: Green
Genre: Virtual Job
Input: Tracked Motion Controllers
Best Playing Position: Standing
Multi-Player: No
Age Rating: PG
VR Shop Score 1/100: 70
Description: Food Truck VR is a virtual reality restaurant simulator that allows you to play both chef and entrepreneur! Build up your menu, prepare your recipes on all manner of cooking equipment, and frantically serve up to 4 customers at a time. You, the player, will be graded on how well you cook, and how quickly you serve dishes- the food critics can be especially demanding! Customize your restaurant and serve the types of dishes you want, but remember to keep your customers happy, or they won't want to come back!
Review: Also called "Order Up VR", 'Food Truck VR' is a fast-food virtual job game in which you play the role of the chef, server and everything else in the kitchen. It's fun to play, the graphics look pretty good and this would make a great VR party game to pass around for people to have a go at. The only problems that I found were the virtual kitchen is way too big (while you can teleport around, it is too big for its own good) and the price tag. So do yourself a favour and make sure you have plenty f play space and the game is in a really good sale as the fun turns to boredom rather quickly.