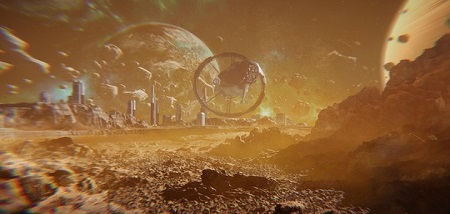 System: Valve Index, HTC Vive, Oculus Rift & Windows MR
Price at Time Of Review: £23.79
Comfort Rating: Yellow
Genre: Adventure, Action
Input: Tracked Motion Controllers
Best Playing Position: Standing
Multi-Player: No
Age Rating: 15+
VR Shop Score 1/100: 80
Description: Welcome to Seeking Dawn, a science fiction VR survival adventure that takes you far beyond the solar system. Step into the shoes of a soldier discovering a hostile planet, where predators roam freely and enemies are trigger-happy. As you follow the trail of an allied recon squad, your task is to find out what happened to them and what they came here for. Combining sharp gunplay with dedicated survival elements, Seeking Dawn's campaign will throw you into unforgettable environments and put you against unforgiving adversaries. Do you have what it takes to survive?
Review: Seeking Dawn is a game that divides me down the middle when it comes to my opinion. On the one hand, this is a stunning looking exploration shooter that really takes you away from it all and keeps you fully immersed for hours on end. But then there are things that are so annoying that it makes me hate the game to the point of not recommending it. Things like the unnecessary survival elements and the crafting elements that take you out of the action for no real need at all. In the end, I feel the good things far outweigh the bad things with this game and I will recommend it even at its full price as a lot of polish has gone into this game to make it as good as it can be. But it's far from being perfect.