---
---
"…it is pointless denying how much fun I had playing it…"
---
Age Rating: 12+
Review System: PlayStation VR
Price at Time Of Review: £14 ($17)
Comfort Rating: Green
Genre: Arcade,
Size: 476 MB
Controller System: Move Controllers
Best Playing Position: Standing
Multi Player: No
---
Fruit Ninja VR (PSVR)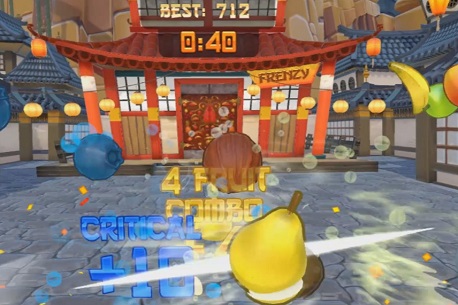 ---
Intro:
Duel with not one, but two swords that will also let you juggle, skewer and flick fruit, and even deflect bombs! Play through the modes that billions of players have enjoyed on mobile. Slice your way to a high score in Classic mode, get the party started in Arcade mode, or relax in Zen mode. Exclusive to Fruit Ninja VR is the brand new Survival mode, which lets you face off against fruit-firing helicopters!
Review:
You have been cutting fruit with your finger on the app for years now and it is still considered one of the very best mobile games there is. But move forward a few years and we are now playing it in VR! Boy, have things moved on since the original game come out. Starting off you need to make sure you have enough sword swinging room, then you are good to go. You get a few game modes to choose from: Arcade (which sees you slice as much fruit as you can in 60 seconds), Classic (Slice fruit and avoid bombs.) and Zen (Gives you 90 seconds, all fruit, no bombs).
Gameplay is pretty self-explanatory, you have to slice as much fruit as you can using the move controllers, sometimes dual-wielding. The more combos of fruit you can do the better as the little floating machine spits them out at you. You don't need to think with this game, you just need to have fun.
---
---
Verdict: While it is pointless denying how much fun I had playing it, I simply don't think it is worth the money. Maybe at half-price you might get yourself a bargain, but as it currently is, there simply isn't enough to justify the price. But I do implore you look past the price and see the game for how much fun you will have with it. Even if that fun doesn't last long.