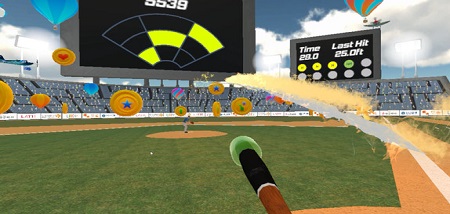 System: Valve Index & HTC Vive
Price at Time Of Review: £2.09
Comfort Rating: Green
Genre: Sports
Input: Tracked Motion Controllers
Best Playing Position: Sitting
Multi-Player: Yes
Age Rating: PG
VR Shop Score 1/100: 70
Description: 'GGANG!' is a virtual reality baseball game. You can either play the game alone with an AI pitcher or with another player using a single device.
Review: GGANG! is a baseball batting style of game that sees you swinging the bat and trying to score as many points as you can. You can play against the AI or against someone using split-screen. There is only one arena to play in, but I like that there are so many things to hit like the mascots, aeroplanes and hot air balloons! For a few quid, it isn't a terrible game and going be fun to do a score challenge with friends. But this isn't going to turn you into a baseball star overnight and it most certainly isn't going to blow anyway away, but it does offer a little bit of fun for a little price.