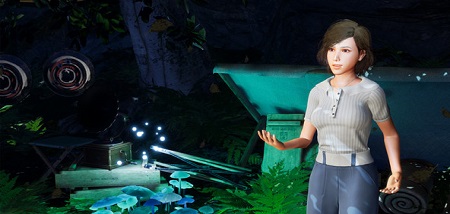 System: Valve Index, HTC Vive & Oculus Rift
Price at Time Of Review: £18.90
Comfort Rating: Green
Genre: Adventure
Input: Tracked Motion Controllers
Best Playing Position: Sitting
Multi-Player: No
Age Rating: PG
VR Shop Score 1/100: 55
Description: The Last Letter is a VR Narrative Puzzle Game. An enigmatic letter of your girlfriend's Grandma accompanying an antique board game will lead you to the discovery of a mysterious and fantastic new world. Together, you will follow the path of her Grandma on a quest to find the meaning of the game she sent you. Magical creatures and your ability to lead them will help you to solve the puzzles standing on your way.
Review: On the whole 'the LAST LETTER' is a wonderful adventure game that has a very Jumanji kind of look and feel to it (you do enter a dream-like word via a board-game). But the good news is there are no monsters here, just wonderful little things to interact with and some simple puzzles to do. It looks good and while the voice narration is in Chinese there are English subtitles. So does it get the thumbs up? Well…no. Because the whole game can be finished in just over 20 minutes! Its a good 20 minutes and surprisingly immersive from start to finish, but when the game costs £18.90 you expect a LOT more content. So, for now, it gets the thumbs down, but if it even gets a MASSIVE price drop do consider giving it a look.