---
"…well worth a download if you enjoy a little challenge."
---
Review System: Samsung S8+ – Running Android 7.0
Price at Time Of Review: £2.29 ($3)
Comfort Rating: Green
Genre: Arcade
Size: 64.79 MB
Controller System: Head Motion Only
Best Playing Position: Sitting
Multi Player: No
---
Ghosts & Ships (Gear VR)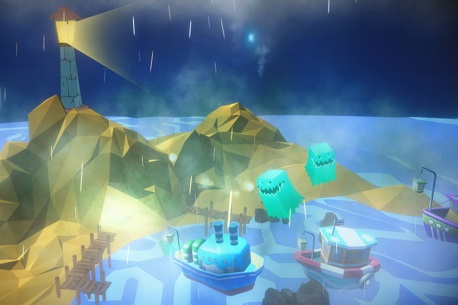 ---
Intro:
Exclusive game, available only in Oculus Store for your
Gear VR
. A fun challenge for all members in the family. Become the lighthouse keeper in the magical Enchanted Bay and fight against ghosts and monsters to protect the ships and guide them home safe and sound
---
---
Verdict: Ghosts & Ships might be a simplistic game, but it is also a fun game. Using your torch (or maybe it's a lighthouse beam) you need to power up the ships so they make it past the rocky shoreline and you need to kill ghost by shining the light on them. Sure, its simple to get used to and with only head movements it's pretty each to control, but its also a challenge and things do get crazy very quickly and it becomes much more of a juggling act to get it all done. While there are no other modes of play other than the main one there is at least a high-score so you can challenge friends. It might not be amazing, but it looks OK, its fun and well worth a download if you enjoy a little challenge.