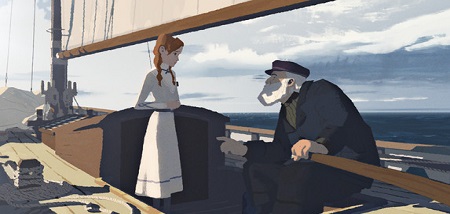 System: Valve Index, HTC Vive & Oculus Rift
Price at Time Of Review: Free
Comfort Rating: Yellow
Genre: 360 Video and Animation
Input: Keyboard & Mouse
Best Playing Position: Sitting
Multi-Player: No
Age Rating: PG
VR Shop Score 1/100: 85
Description: Age of Sail VR is the story of William Avery (Ian McShane), an old sailor adrift and alone in the North Atlantic. When Avery rescues Lara, who has mysteriously fallen overboard, he finds redemption and hope in his darkest hours. Official selection Venice Film Festival.
Review: Of all the Google Spotlight Stories I have to say Age of Sail is probably the most emotional one. Like all these kinds of short animation films some people like them (like myself) and some people find them pointless, but if you have yet to see one this one with its beautiful animation and powerful story is well worth a look. Just be aware that it is VERY emotional and you might well shed a tear in the 12 minutes run time.