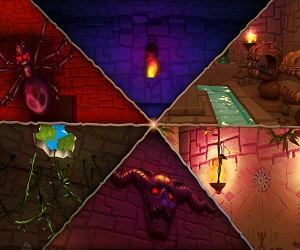 System: Samsung Gear VR, Oculus Go
Price at Time Of Review: £3.99 ($5)
Comfort Rating: Yellow (Mild Movement)
Genre: Adventure
Input: 3 Dof Controller
Best Playing Position: Sitting, Standing
Multi-Player: No
Age Rating: PG
---
Description: Ever wanted to be a treasure hunter in midst of the deepest jungle? Alone, in search of adventure, mystery and riches? Then grab your survival kit and your mosquito spray, because HIDDEN TEMPLE – VR ADVENTURE makes you the center piece of a thrilling virtual reality adventure. Escape from an ancient temple before it becomes your tomb!
In classic point-and-click manner you will have to collect and combine items in order to solve tricky riddles and discover secret chambers. You can explore the corridors of the temple through your motions alone as the fantastic full 360° view places you right in the middle of the adventure. Will you find the hidden treasure of jewels and gold?
Review:
If you wanted to grow up to be Indiana Jones this is the perfect app for you. With puzzles and all sorts of horrible things like bats and spiders, this is a treasure chamber explorer game that might make you feel a little claustrophobic, but it also immerses you as well as getting the brain working. Sure, it could have done with more control to walk about each room rather than waypoints, but it still seems to work and flow perfectly. While this game does make you feel mini, it has a big adventure waiting for those willing to fork out the money for it. I do feel this game delivers value for money, but only just. If you grab it in a sale you will be very happy indeed, but paying full price you might be left wondering if it was worth it. While I say it is, that is just my own opinion.