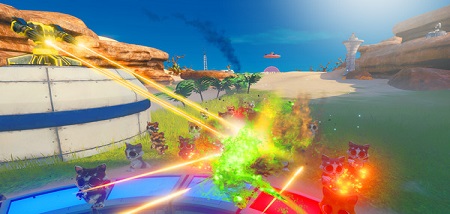 System: Valve Index, HTC Vive, Oculus Rift & Windows MR
Price at Time Of Review: £10.99
Comfort Rating: Green
Genre: Tower Defence
Input: Tracked Motion Controllers, Gamepad, Keyboard & Mouse
Best Playing Position: Sitting
Multi-Player: No
Age Rating: 15+
VR Shop Score 1/100: 85
Description: Kittypocalypse is an in-depth, strategic tower defence game built exclusively for VR. Across a diverse range of environments, defeat the hordes of evil alien kitties and salvage what's left of your home. Evil alien beings dressed up as cuddly kittens have successfully taken over your planet and all that you know and love. Prepare to repel wave after wave of dastardly cute but deadly kittens on 15 beautiful and diverse islands. Remember: the survival of your home planet lies in your hands!
Review: Let's get this out of the way: If you like cats don't play this game! But if you looking tower defence style strategy games this is one of the best VR experiences you can do. It plays like a dream and within just minutes you are able to work out what to do and get straight into the game. Once used to the controls the fun really starts and you start to strategize which weapons to put where. With lasers, Gatling guns, Tesla coils and missile launchers to name just a few.
From the off you might notice that the scenery is a little basic, that is because once you are a little further into the game you have to deal with hundreds of kitties as well as fire and weapon effects going off all over the place. Towards the end of each mission, it looks like a hoard of kitties caught up in a fireworks show. I wouldn't consider myself a fan of tower defence games as a general rule, but Kittypocalypse puts the fun back into the tower defence genre. There are so many ways in which you can play it and so many ways in with you can win. This is only a demo at the moment, but the moment this gets a full release I will be chucking my money at it, no matter what the cost.