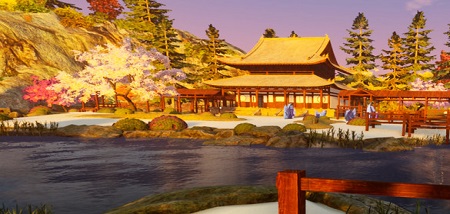 System: Valve Index & HTC Vive
Price at Time Of Review: £2.09
Comfort Rating: Green
Genre: Interactive Experience
Input: Tracked Motion Controllers
Best Playing Position: Standing
Multi-Player: No
Age Rating: PG
VR Shop Score 1/100: 65
Description: Take a break from reality. Mio Garden offers up a calming Virtual Reality experience unlike any other. Interact with a series of mini games or sit down, relax and meditate against the backdrop of a never-ending sunset.
Review: While it might well be just me, I am not a fan of "relaxation" apps that have mini-games inside of them. What is wrong with just having a nice place to look at relax in and explore rather than being preoccupied with silly little games. Mio Garden is the perfect example of that and indeed it does feature 4 games to play, but they just feel cheap and misplaced when compared to the relaxing scenery and environments. This is probably worth the small £2.09 asking price, but I am not sure who to recommend it to given that it isn't too relaxing and the mini-games suck. But that as always is just my opinion.