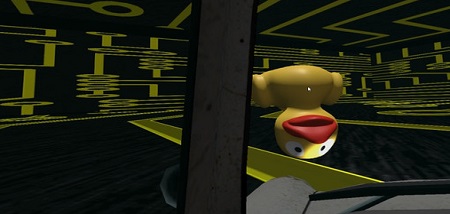 System: Valve Index, HTC Vive & Oculus Rift
Price at Time Of Review: £1.69
Comfort Rating: Red
Genre: Arcade
Input: Tracked Motion Controllers
Best Playing Position: Sitting
Multi-Player: No
Age Rating: PG
VR Shop Score 1/100: 60
Description: Imagine the old classic game of snake. The one where you have to eat food to grow in length while avoiding your own body. Now imagine this from a first-person perspective from inside the head. Now imagine this isn't a snake at all, but instead a car that's ramming into toys to add them to its ever-growing trailer behind it. This is Snake VR!
Review: While I could start by telling you how terrible the graphics are in 'Snake VR' or the terrible controls that you have to fight with, I don't think I will. The reason for that is that no matter how much I wanted to hate on the game I still found myself having fun playing it. It's little more than a 3D clone of the original snake game, only this time it is a car towing toys instead of an ever-growing snake. Its crap, it's silly, but if you got this in a cheap bundle with others you would probably play this the most. For £1.69 its a bit of indie gold that is well worth a look.