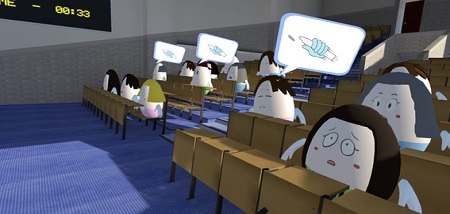 System: Valve Index & HTC Vive
Price at Time Of Review: Free
Comfort Rating: Green
Genre: Interactive Experience
Input: Tracked Motion Controllers
Best Playing Position: Sitting
Multi-Player: No
Age Rating: PG
VR Shop Score 1/100: 50
Description: Ever wonder if you'd make a good egg teacher? How about an egg lecturer? Well, wonder no more, for in Egg Teacher VR you can do just that! Although actually, you'll do anything but teach the eggs – prepare to deal with a colour-locked computer, noisy students and invasions of paper planes, houseflies or computer mice – and that's just the tip of the iceberg! Test your reflexes in varied challenges requiring speed and precision; race against the timer earning points for speed and accuracy, and perhaps you'll make your way to the top of the scoreboard!
Review: Egg Teacher VR sees you playing the role of a teacher who just so happens to be an egg! (no surprises there then.) You have to teach your students about climbing ladders, how to kill mice (computer mice) and even how to shoot water at flies. This is one of those games that isn't much cop on its own but use your imagination a little and much about and you will soon find yourself having a good few laughs. But it is a really good job that it is free otherwise there would have been no way I could have recommended it.