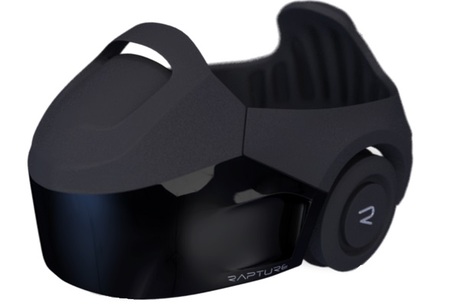 Description: The stats on the Rapture HMD are very impressive indeed, but those stats are not what makes this virtual reality headset so amazing. What is amazing is what it is used in. It's called "The Void" and if you had to nail it down you would call it a virtual reality experience within a physical and virtual reality environment. That might sound like a bit of a mouthful, but it's also a bit of a mind full as well.
The HMD itself is just part of an experience that is made within a warehouse or building, not in the home like 99% of other VR experiences. The whole system is powered by a PC built into a backpack that you carry around. The best way to think about it is Lazer Quest within a VR experience. But the experience will all depend on what VR environment you fancy playing at the time. At the moment, it is not much more than an idea. But with the right funding, this could become a reality especially given that the tech is there to pull it off.
HEADSET Specs…
Headset: Rapture HMD (Rapture VR Headset)
Manufacturer: The Void
Launch Price: Unknown
Release Date: July 2016
Headset Type: VR Headset (PC Powered)
Display: X2 Curved OLED at 2048 × 1080 px (per eye)
Field of View(FOV): 100°
Refresh Rate: 60 Hz
Interpupillary Distance Adjustment: Yes
Weight: 510g (17.98 oz)
Tracking: 6 DoF Inside-out
Review: While the headset itself is very real it was only ever seen on VR arcades owned by the headsets makers 'The Void' so while it was never publicly for sale you can see it and use it at one of their amazing arcades which I have been to myself and I promise you they are well worth a visit.