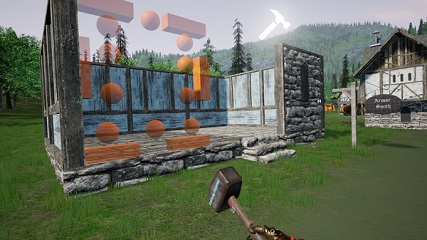 System: Valve Index, HTC Vive, Oculus Rift & Windows MR
Price at Time Of Review: £23.79 ($29.99)
Comfort Rating: Yellow (Mild Movement)
Genre: Role-Playing Games (RPG)
Input: Tracked Motion Controllers
Best Playing Position: Room-Scale
Multi-Player: Yes, Online and Local Co-op
Age Rating: PG
---
Description: A medieval fantasy VR RPG set in a massive open world with deep player progression, fast-paced physics-based combat, and classic RPG game mechanics reimagined for VR. Full dive into the world of Random Fighter VR, there's something here for everyone.
Review: 'RFVR' is a online and local co-op RPG game in which you explore the lands and fight monsters either on your own or with friends. The first thing you will notice is that the environment you get to explore is empty, pointless and pretty much void of life. But then, when life does show its face the AI is brain dead and you can kill pretty much everything with a little flick of the wrist. There is no action here, no effort, it all feels so void of fun that it would have been better to have a small map with a little bit of life. I did like the building part of the game, but it doesn't make up for the rest of it.
The truth is there is NOTHING here that could ever justify the crazy £23.79 ($29.99) asking price. You would be better off playing VR chat (for free) and making up your own little adventure. I don't know why people are recommending this game, I can only guess is that they are paid to do so, or see something in this game that I do not. All I know for sure is that I won't be recommending this game any time soon, not unless it gets a massive price drop or gets miraculously better overnight.