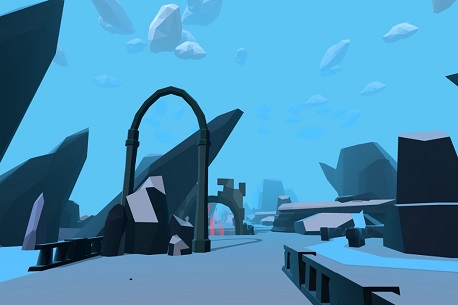 System: Samsung Gear VR Only
Price at Time Of Review: £2.29 ($3)
Comfort Rating: Yellow (Mild Movement)
Genre: Endless Runner
Input: Touchpad, Gamepad
Best Playing Position: Sitting
Multi-Player: No
Age Rating: PG
---
Description: RIVR is a colorful and fast-paced VR runner experience. Use your skill and your colour shifting abilities to run as far as you can and explore different worlds.
Review:
With so many endless runner games out there trying to stand out from the crowd is getting harder and harder. But yet RIVR still manages to do just that. While still an endless runner game at heart it mixes up the endless runner genre and makes it more exciting by adding in some colour changes while you are trying to avoid various bits of scenery.
By pressing the colour change button certain bits of scenery become active and others vanish, then press it again and the same thing happens, but to different bits of scenery. It sounds weird, but kind of works as well. With some nice music and a challenging pace once you pick up speed this is a pretty enjoyable game. If you like other endless runner games, do consider giving this a go.