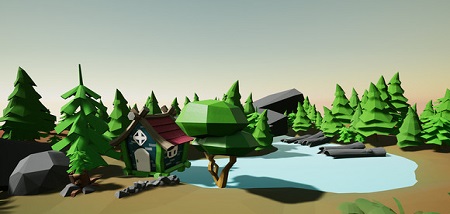 System: Valve Index, HTC Vive & Oculus Rift
Price at Time Of Review: £4.79
Comfort Rating: Green
Genre: Archery
Input: Tracked Motion Controllers
Best Playing Position: Sitting
Multi-Player: No
Age Rating: PG
VR Shop Score 1/100: 75
Description: Help Cupid get back in Venus' good graces in this VR game! Use his bow and arrow to balance the natural order by helping animals mate, or in some cases, culling the overpopulation. Challenge your skills and accuracy in different locations and seasons.
Review: 'Stupid Cupid' is a lovesick arrow shooting game in which you will be trying to make animals fall in love with each other. The good news is there are no hard-core scenes here, just good old family-friendly fun. On the whole, the game is worth a smile or two, but graphically it is a little basic that might not be good enough for some peoples tastes. Gameplay-wise there really isn't a whole lot to it, just the same arrow firing over and over with some nice woodland scenery that always manages to look the same. I just feel asking £4.79 for this is a tad too much and if you can grab it in a sale it will be worth picking up. It's not going to win any game awards, but it will keep you amused for an hour own so.