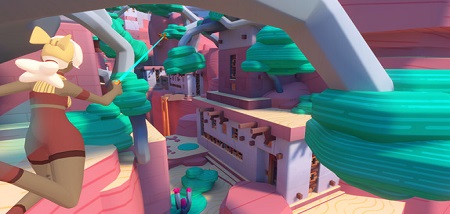 System: Valve Index, HTC Vive, Oculus Rift & Windows MR
Price at Time Of Review: £23.79
Comfort Rating: Red
Genre: Action
Input: Tracked Motion Controllers
Best Playing Position: Sitting
Multi-Player: Yes
Age Rating: PG
VR Shop Score 1/100: 70
Description: Return to the world of Windlands, alone or with friends. Armed with grappling hooks and a bow, soar through the ruins of a fallen world. Embark on a journey to destroy the gigantic titans and save the world from an ancient danger.
Review: Before it has even left the development stage 'Windlands 2' already has a big problem. The original game was so groundbreaking and original that I remember playing it on an Oculus DK2 and thinking how wonderful this game is for VR technology as a whole! It was that good, the original game sold VR headsets off its own back! The good news is Windlands 2 is a much more finished and polished game. The graphics are cleaner, sharper and the gameplay has been given a complete makeover. But I'm sorry…this is not for me…this is not a Windlands game.
The original was a sandbox adventure, you were free to explore and relax, this game is more action-packed with multiplayer modes and challenges. No longer it is relaxing, its a game to get excited about and stressed over! Heck, it even has boss fights! Sure, it's a good game in its own right, but for me, this is not a Windland sequel, it is a separate game that doesn't relate to the original in any way. While not as fun as the original, this is still worth a look. Just don't expect a game anywhere near as good as the original.